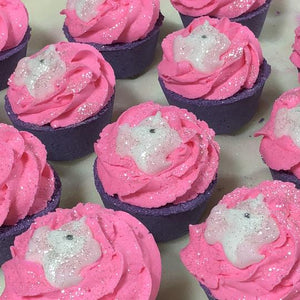 Unicorn Kiss Bath Cake
Regular price $10.00 Sale
Unicorn Kiss Bath Cake-top notes of watermelon and strawberry; followed by middle notes of jasmine, rose, and green notes;  sitting on base notes of cassis, oakmoss, white woods, and vanilla.   
INGREDIENTS: 
Frosting: Sodium Bicarbonate, Decyl Glucoside, Cocamidopropyl Betaine, Potassium Bitartrate, SLSA* Sodium Cocoyl Isethionate, Fragrance, Zinc Oxide, FD&C Colorant
Base: Sodium Bicarbonate, Citric Acid, Epsom Salt, Coconut Oil, Essential Oil, Aqua, Polysorbate 80, FD&C Colorant.
DIRECTIONS: 
Separate the frosting and base. Hold frosting under the running water to create foamy bubbles. Drop the Bath Bomb base in the tub and enjoy your spa-like experience!