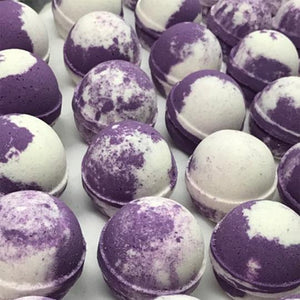 Lavender Champagne
Lavender Champagne Bath Bombs- Lavender oil, effervescent citrus notes, and sweet vanilla combine to make this festive fragrance!  A sparkling aldehydic accent creates a fizzy effect for the citrus top notes of lime and orange to open this blend.  Hints of green floral and rum liquor note from the fragrant heart.  Clear woody tones combine with earthy accents while a base of vanilla bean surrounds the fragrance.
INGREDIENTS: 
Sodium Bicarbonate, Citric Acid, Epsom Salt, Coconut Oil, Fragrance, Aqua, Polysorbate 80, FD&C Colorant.
DIRECTIONS: 
Enter your water-filled bath tub. Drop the Bath Bomb in the tub and enjoy your spa-like experience!