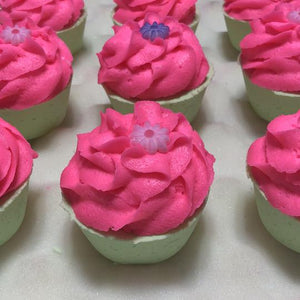 Japanese Cherry Blossom Bath Cake
Regular price $10.00 Sale
Japanese Cherry Blossom Bath Cake- Our Japanese Cherry Blossom Bath Cake perfectly embodies the aroma of pink Japanese cherry blossoms, warm and comforting vanilla, and fresh mimosa flower petals. This complex trio brings an air of comforting floral freshness to your bathtub. 
INGREDIENTS: 
Frosting: Sodium Bicarbonate, Decyl Glucoside, Cocamidopropyl Betaine, Potassium Bitartrate, SLSA* Sodium Cocoyl Isethionate, Fragrance, Zinc Oxide, FD&C Colorant
Base: Sodium Bicarbonate, Citric Acid, Epsom Salt, Coconut Oil, Essential Oil, Aqua, Polysorbate 80, FD&C Colorant.
DIRECTIONS: 
Separate the frosting and base. Hold frosting under the running water to create foamy bubbles. Drop the Bath Bomb base in the tub and enjoy your spa-like experience!