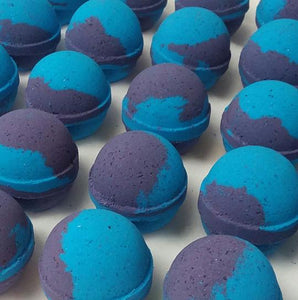 Galaxy
GALAXY-Lemongrass Essential Oils (along with lemon rinds, grapefruit, lily, and vanilla sugar) form an intergalactic blend of fragrance and color. The Galaxy Bath Bomb features earthy undertones, strong antioxidants, and antidepressant properties. Lemongrass is frequently used in Asian cuisine and considered highly medicinal.
INGREDIENTS: 
Sodium Bicarbonate, Citric Acid, Epsom Salt, Coconut Oil, Fragrance, Aqua, Polysorbate 80, FD&C Colorant.
DIRECTIONS: 
Have your child(ren) settle in the bathtub after filling it with water. Give them the bath bomb, and have them gently place it in the tub when they are ready. Encourage them to take in the sensory details, from the effervescence of the bath bomb to the fruity fragrance and deep colors flowing through the water.